Open House Etiquette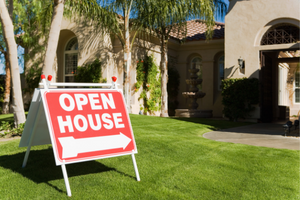 Buying a home is an exciting time, and attending an open house can be a crucial step in the process. An open house provides an opportunity to view the property in person, ask questions, and get a feel for the neighborhood. However, attending an open house also comes with certain etiquette expectations that buyers should be aware of. Here are some tips on open house etiquette for buyers:
Respect the homeowner's property: Remember that an open house is someone's home, so treat it with respect. Don't touch the owner's personal belongings or use their facilities without permission. Avoid bringing food or drinks into the house, and make sure to wipe your feet before entering.
Be punctual: Arrive on time for the open house and allow yourself plenty of time to explore the property. If you're running late or can't make it, consider contacting the real estate agent to let them know.
Sign in: Many open houses require attendees to sign in, so be prepared to provide your name and contact information. This information helps the real estate agent follow up with you after the open house, and it's also a safety measure for the homeowner.
Ask permission to take photos: If you want to take photos or video of the property, make sure to ask permission first. Some homeowners may not be comfortable with this, and it's important to respect their wishes.
Be mindful of other attendees: You may not be the only one attending the open house, so be mindful of other attendees. Avoid blocking doorways or hallways, and try to keep noise levels down so that everyone can hear the real estate agent's presentation.
Ask questions: An open house is an excellent opportunity to ask questions about the property. Don't be afraid to ask the real estate agent about the home's history, recent updates, or any concerns you may have.
Provide feedback: After the open house, consider providing feedback to the real estate agent. This feedback can help them better understand what you're looking for in a home, and it can also help the homeowner make any necessary updates or improvements.
Attending an open house can be a great way to find your dream home, but it's essential to be respectful and mindful of others. By following these tips, you can ensure a pleasant experience for everyone involved.